The NOM produces two useful-substance maps :
Maps of the useful substances of Tunisia's governorates in the 1/200000 scale, which elicit the potentialities of each governorate in quarry materials and industrial rocks (sand, clay, chalky, gypsum…etc.), and give an overall idea about these materials' quality, their geographical repartition and economic importance.



Thematic maps in 1/500000 and 1/100000 scales

, which present the potentialities on a given material within the country's scale, the quality of this material, its geographical repartition and its economic importance (marble stone map, clay map, sand map…etc.)


Actually, these two thematic maps are available as minutes, which are marble-stone and clay maps. They are basic tools for a lasting development. They do have a direct impact on the economy, regionally as well as nationally. They are orientation documents for decision-makers, prospectors and promoters. They indeed contribute to the director plans, career paths and territory development.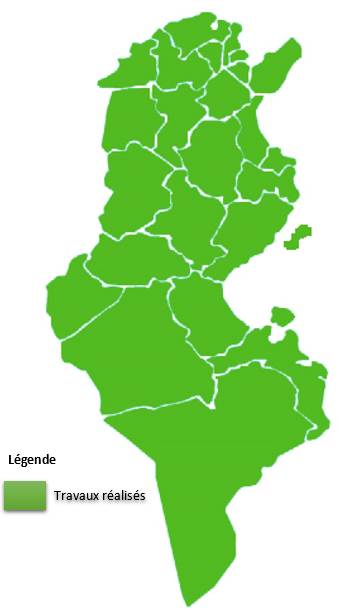 Maps of governorates' useful substances in 1/200000
(Larger image - click here)