Geological patrimony and lasting development
Development project of the karstic caves of Kairouan and Siliana governorates :
Within the framework of the valorization and maintenance of the geological patrimony, the NOM, as being a National Geological Service, anticipated the possibility study of the natural-cave exploitation of Jebel Serj for cultural and tourist purposes.
The natural caves or karstic caves are found frequently in several countries worldwide, they have been considered as being real natural richness.
Certaines grottes, exceptionnelles par leur volume ou par leur beauté naturelle sont classées patrimoine national ou universel. En effet, ces grottes constituent des milieux naturels très particuliers, leurs caractéristiques physico-chimiques (humidité, oxygénation et pression particulières, climatisation naturelle, protégées des intempéries et de la lumière du jour...) font d'elles des lieux favorables pour plusieurs domaines d'activité comme les ressources minérales, les ressources en eau, l'agriculture, la conservation, la recherche scientifique (sciences de la Terre et de la vie), les prospections minières et pétrolières, mais aussi le sport, la culture et le tourisme.
Certain of the caves, which are exceptional by their volume and natural beauty, are considered to be national/universal patrimony. Indeed, these caves constitute very particular natural environment, their physico-chemical characteristics (humidity, oxygenation and particular pressure, natural air-conditioning, protected from the bad weather and day light) have made them very favorable places for a wide variety of activities in several domains, such as mineral resources, agriculture, conservation, scientific research (earth and life science), petroleum and mining prospecting as well as sports, culture and tourism.
The wonderful beauty of the subterranean landscapes, engendered by the accumulation of mineral concretion of varied forms, like the stalactites and stalagmites, has made of these caves a source of natural curiosity and very attractive places. The recent discovery of several prehistoric and paleontological sites in some caves has given the latter a historic and cultural dimension.
The subterranean tourism is nowadays geological and cultural, well developed in numerous countries worldwide. The caves that are equipped with, sound effects, light and sometimes prehistoric scenography entice a clientele that is more and more big in number and importance.
For the endeavor of promoting the Tunisian tourism with a new product, the subterranean tourism and integrating this national natural richness that constitutes the karstic caves of Jebel Serj in the lasting development, the prospecting and potentiality study of these caves have been set to development and exploitation. Besides the massive is a good demonstration of this natural phenomenon.
Henceforth, the classification of Jebel Serj's massif is classified as being the national geological reserve of the karstic phenomena, superficial as well as subterranean. This massive is also to be considered as a natural richness that necessitates a particular attention for its valorization, maintenance and its integration in the lasting-development programs.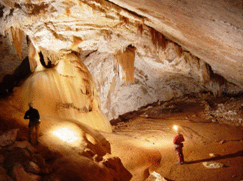 Mine cave in Jebel Serj (Kairouan governorate)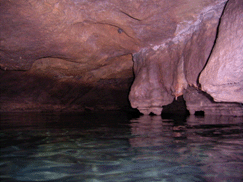 Cave of Aïn Iseb (Siliana governorate)